The area which is now Fluvanna County was once part of Henrico County, one of the original shires of the Virginia Colony. Henrico was divided in 1727 and the Fluvanna County area became a part of Goochland County. In 1744 Goochland was divided and the area presently known as Fluvanna became a part of Albemarle County. Finally, in 1777, Albemarle County was divided and Fluvanna County established. The County was named for the Fluvanna River, the name given to the James River west of Columbia. Fluvanna means "Anne's River" in honor of Queen Anne of England.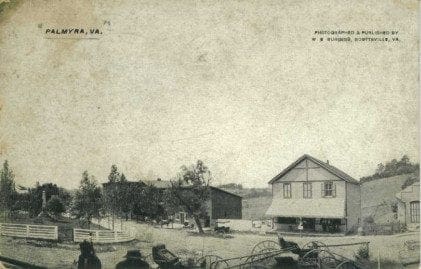 Historical Markers in Fluvanna
There are sixteen Virginia historical highway markers in the county. Richard Harrison, Publisher, compiled these in chronological order by event date. Read each here. To learn more about the publisher and his comprehensive resources and gifts that are making Virginia historical highway markers conveniently acccessible and relevant to a wider audience, visit his website. If you have questions or comments, you may contact Mr. Harrison at 540-287-3068.
From an initial 882 "tithables," the population reached 3,300 by 1782. Columbia was formed in 1788 with Bernardsburg and Wilmington following soon after. Lyles Baptist Church was organized in 1774 and the formation of the Methodist denomination had its roots in a Conference held in Fluvanna in 1779. The "Brick Union" Church was built in 1825 for the use of Episcopalians, Methodists, Baptists and Presbyterians. The village of Fork Union grew up around that church (now called Fork Union Baptist Church).
The Rivanna Navigation Company was organized in 1805 to improve the Rivanna River. Eventually a series of locks and dams were built from Columbia to Milton, five miles below Charlottesville. The James River and Kanawah Canal, which was completed in 1840, ran along the James on Fluvanna's southern boundary. Both canals brought prosperity to the County until they were supplanted by the railroad in 1881.
Palmyra was made the county seat in 1828 and it quickly became a thriving town after the completion of the courthouse in 1830. While Palmyra has changed and modernized over the years, it still possesses an aura of tranquility.
There were numerous successful gold mines located in the eastern half of the County during the 1830's.
Fluvanna was defended by six militia companies during the Revolution. Fluvanna was invaded by British forces in 1781 when the Point of Fork Arsenal was destroyed. No Civil War battles were fought in Fluvanna, but Union soldiers burned mills and bridges and also damaged the James River canal.